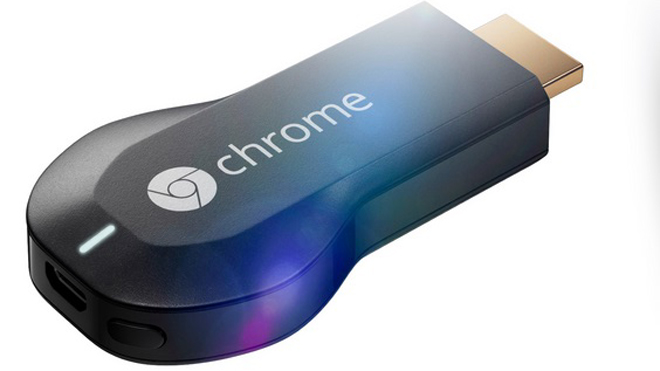 Chromecast – The easiest, simplest way to stream the internet to your TV.  To see what all the buzz is about read on…

Chromecast is a little gadget that you simply plug into your TV's HDMI port to stream the internet.
Like many of you we've tried just about every internet streaming device out there these days. We're always looking for a way to watch the shows and internet video we want, on our TV, but with the least amount of hassle. This new little device from Google claims to do just the trick. We've taken a look at all the specs along with actually using the product to provide you a unique insight.
Here's how it works:
Just Plug in and play.
Get started in 3 easy steps.
Plug the Chromecast into your TV's HDMI port.
Connect it to your WiFi network.
Cast videos and more from your smartphone, tablet or laptop to your TV.
In a nutshell it will send what you have on your phone/tablet/computer directly to your TV with no wires needed. You just click the little "cast" icon that will appear on compatible apps (such as YouTube and Netflix) and you're done.
Anyone in your home can use your Chromecast with their smartphone, tablet, or laptop without any additional set up. This makes for a personalized experience for everyone in your home.
 No separate remote needed!
This is a nice plus as most of us are tired of the coffee table clutter that is our giant remote collection.
Chromecast works with devices you already own, including Android smartphones and tablets, iPhones® and iPads®, Chrome for Windows®, and Chrome for Mac®. Browse for what to watch, control playback, and adjust volume using your smartphone, tablet, or laptop. There's nothing new to learn as you probably already own one of these devices.
To put it simply,  if you're sitting in the living room watching House of Cards via Netflix on your phone, tablet or laptop. Press the "cast" button on Netflix, and the show gets sent directly to your TV! This even works with most content displayed while using the Chrome web browser. At that point, your phone, tablet or laptop becomes a remote control, but also retains its full functionality. In other words, feel free to check your email,or use facebook while watching the show on your TV.


Current Apps:
Google Play – Everything available in their store is now available on your TV
YouTube – Literally millions of videos available at your fingertips. All your subscriptions will follow you as well.
Netflix – Everything they have to offer, from the latest blockbusters and TV shows to their Emmy nominated House of Cards.
News:  The Washington Post annouced 7/24/2013 that it will be working with Google to broadcast online news PostTV videos. Look for it soon.
More and more apps are being added each week. I'll attempt to update this post often.
Compared to Roku and Apple TV:
With just a few apps available right now, the Chromecast can't be equally compared to the Roku (reviewed here) or Apple TV (review found here), however with the robust Google Play and Youtube (missing from Roku), Chrome browser along with Netflix, it can more than satisfy those with a hunger for online content on their TV, while allowing ease of control with our smartphones or tablets. Google also promises more content is coming to us quickly. This little 2″ wide Chomecast is also the only one of the bunch to simply plug directly into your TV, no additional cables or connections necessary, thus eliminating clutter.
Multitasking: This feature will allow you to use your iPhone, Android Phone or tablet to do anything else you want, while it's streaming directly to your TV through the Chromecast. This feature is currently not available for the Roku or Apple TV in an easy to you all-in-one effort.
Apple TV does have it's AirPlay feature which works well with Apple devices and all of your iTunes content. If you already have this it may work better to stick with the Apple TV until Google adds enough channels to make it worthwhile for you.
Remote: Roku's motion sensing remote is a nice feature if you enjoy kicking back on the couch and simply waving your hand to find the channels you'd like to watch. Currently Chromecast does not enable this feature although most smartphones these days have it built-in. The newer Roku 3 includes a headphone jack in the remote itself which can turn the sound off the TV and allow for private listening. It currently isn't clear exactly how to accomplish this with the Chromecast as the multitasking may not operate properly for your needs.
Technical specifications:
Output: HDMI
CEC compatible
Video Resolution: 1080p
Wireless: 2.4 GHz WiFi 802.11 b/g/n
What's in the box?
Chromecast (of course!)
HDMI extender (for use in tight spaces as occurs with some TV's)
USB power cable
Power adapter
Conclusion:
This little device is available for such a low cost, making it an amazing value for this new technology. We can highly recommend it for anyone wishing to use online content on their TV.
 You can buy the Chomecast at Amazon at what currently is one of the best prices around. Combine that with their FREE shipping and outstanding customer service if you have a problem and it's a great deal indeed. Click here to see on Amazon. Update: Amazon has been selling out lately of this device. When they do, they are taking pre-orders and have shipped some of them out within a few days to a week from the feedback I've received by visitors to our site.
Also available on Ebay right now:
Or for a complete Ebay search go here.

If you like this review, please see our other reviews here or subscribe (no spam and just an e-mail or two per month I promise).