Roku may be one of the better alternatives to cable.
Updated with the all new Roku Streaming Stick
Whether you're looking to "cut the cord" with your cable or satellite TV provider or would like to simply watch internet movies, TV shows and podcasts on your TV,
I noticed my satellite TV bill going up higher every year. I knew there must be another option out there. I began looking at the various alternatives to cable out there such as Home Theater PC's (HTPC) that promised the world, but seemed difficult to set up and maintain. I tested out the internet streaming on my Bluray player, even my Sony PS3, but they always seemed to be lacking.
Not long ago Roku introduced a new box promising to deliver the internet and much more to your TV. Fed up with my rising satellite bill I gave it a shot! Please note that the latest Apple TV is also available and a few Roku features seem to be catching on with it as well. For my take on the latest Apple TV, including a step-by-step guide to setting it up see the article here. Amazon has recently entered the "set-top-box" business with their own Fire TV. Our review will be up soon.
Features from Roku's site:
Connect to virtually any TV (HDMI cable)
High definition streaming
Built-in wireless (Wifi b,g,n)
Over 1,000 channels to choose from
Free app for your ipod, iphone, android device (I've installed this and it works great, especially for searching movies and TV shows)
Headphone jack in remote control mutes TV for private listening
The new Roku Streaming Stick is one of our favorites! It looks like a little thumbdrive you'd plug into your computer, but in this case you plug it directly into the HDMI port on your TV. No need for unsightly boxes cluttering up your living room. It's just about invisible. If your TV is one of the latest, it will even provide the power it needs. If not, Roku has included a little power adapter.
It's very much in appearance like Google's Chromecast, but with 1,000's of more channels available AND here's the kicker… it comes with a remote control! You can still use an Android or Apple app on your smartphone, but the option to use a real remote really appeals to us.
New Search Feature!
Roku's new search feature is what we've been asking for, for years! You can now search from the main Roku screen for any show, or actor, etc. You can then, search again based upon that search to fine-tune precisely what you're looking for. The results will show you all options on Roku for viewing, such as Netflix, Amazon, etc, etc. Roku will also tell you if it's a FREE Amazon Prime stream, or if there is a fee associated. This will make finding what you want to watch much easier that the previous way. In the past we had to do a separate search in every potential channel we wanted to view content in.
Roku has introduced the all new Roku 3
with some enticing features such as:
All new interface with large channel icons replacing the old horizontal channel lineup that sometimes took awhile to scroll through. Note that Roku 2 models should be receiving a similar interface upgrade soon.
New enhanced remote control featuring motion sensing control (useful for the various games available such as Angry Birds) and a headphone jack which will mute the TV speakers for privacy. No more disturbing others while watching TV late at night! This could also be useful during a workout with the many fitness channels available. FitnessTV is one of my favorites. Earbuds are included but it is compatible with virtually any headphone you may already have.
More powerful guts! This is the fastest most responsive unit yet by Roku. Everything you do will be much quicker and almost no lag-time between selections. Roku claims the power used to stream a movie is about the same as running a night-light.And 30 times less than streaming from one of the latest video game consoles!
Ethernet port. The lower-end Roku models use wifi only. If you don't have good wifi reception in your home, the new Roku 3 model has an Ethernet port to take advantage of the full high-speed internet you have.
Set-up:
The Roku can be placed just about anywhere due to its size. Mine fits in the palm of my hand and is located adjacent to the TV where it's barely noticeable. You connect with an HDMI cable to your TV and plug it in. That's it. And remember since the connection is digital, any cheap cable is good enough. Connecting to your home network through the user interface is really straightforward through the settings menu. My Roku is about 50 feet away from my wireless router and gets almost a full signal.
Once you create an account online you go to your Roku screen on your TV and get the code to activate, enter it on the website and it is synced to your Roku box where you pick channels you'd like to have from their Channel Store.
Some channels require that you set up an account with them. Don't let this scare you off, as it's rather simple. An account with them will save your preferences making it easier to navigate to what you want to watch. Setting these up is easy. On-screen they will give you a web address to go to on your computer/laptop/tablet/smartphone. They will also give you a code (something like SQ45TH) and when you enter this into your account the Roku will update itself automatically with all your information.
How to use:
The onscreen interface is a set of icons representing various channels you select. Simply use the remote to scroll to the one you want and select it. That's it!  
Channels:
Selecting channels from Roku's Channel Store is simple. The store has categories such as New, Movies and TV, News, etc. These can provide one of the best alternatives to cable out there. They have channels for just about everything including the following most popular:
YouTube: Roku has finally added an official YouTube channel. Available for Roku 3 initially with other models to follow.
Netflix, Amazon, Crackle (Married with Children!), Epix, Flixter, Hulu Plus for movies and TV. There are also a few odd movie channels that show older classic films for free! Just a few adds in the beginning to start.
CNN, FoxNews, CNBC, WSJ, and other news channels
Pandora, MOG, Live365 and Tune-in for music and radio. I'm not sure why, but for me Pandora has zero ads, and that is with hours of listening at a time!
Sports with NBA Gamepass, NHL Gamecenter and MLB.TV
PLEX for streaming music, photos and video from your computer or laptop

One option for Plex containing some "interesting" channels is the unsupported AppStore found here.
PLEX can work with an older computer/laptop. See the next section for more information!

Disney Channel and Cartoon Network online style programming
Try FitnessTV with 100's of workouts. Basic Aerobics, Jazz, and simple toning exercise.
BYU TV: BYU offers a FREE live station along with on-demand of just about all their shows. Try American Ride for a unique and fun to watch history show.
Various Yoga channels when you want to relax, or use as a full workout. I tried the Yoga for flu & cold recently and it truly helped with my aches and even my sinuses. I didn't expect that.
Harvest Christian Fellowship channel, among other religious channels. That is just my favorite as I was part of the architectural team.
Youtube through Twonky (iPhone app). Plex also will provide YouTube for you. I use it to watch The Guild! And the newer Stan Lee's World of Heroes!
RT-TV (Russian news, but in English)
BBC live feeds, Sky News, and even a British two different music video channels with actual music! (unlike MTV) See Nowhere TV private channel below to add all these together.
NowhereTV private channel for a huge assortment of channels not in the official channel store such as Bloomberg, Ellen, Conan, Mad Money, Lifetime Movies/Shows. It has a favorites button so you can find your favorites quickly.
There are also Facebook, Twitter and all the social goodies
Roku has an official blog that mentions the latest releases in the most popular movie channels, including free options.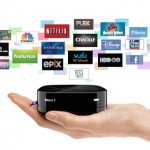 PLEX!
With the PLEX app installed on your Roku and the PLEX media server on your computer or laptop, you can "serve" all your media through your network easily.
First you install the PLEX media server on your computer or laptop. It will run in the background. Right click the icon in your taskbar and choose "manage media". It will open your internet browser and open a page of settings. Simply go to the setting you'd like to adjust such as your shows. You then simply "browse" to where your shows are stored. The PLEX media server will then automatically go to the internet and get all your program information including the show or movie title, episode information, cast and crew etc.
Optional. You can use an old computer/laptop! If your computer is newer, skip this section. I'm using a really old Dell Inspiron laptop with a tiny celeron processor in it to stream from. I discovered by reading forums that I simply needed to convert my files to a different "container" to stream flawlessly from the old laptop This requires a bit of technical knowledge, but it's worth it if you need to use an old computer. I use MKV-AVI to MP4 converter (free). You can get it here. It isn't the prettiest program out there, but it does the job and quickly! Another one I've used before with a nicer interface (doesn't do AVI) is MkvtoMp4, and a forum discussing it is found here.
There are also additional channels you can set up with PLEX including but not limited to YouTube, Hulu and Spike.
Amazon Prime
I've been a member of Amazon Prime
for awhile now and their Roku channel is easy to use and streams flawlessly is HD through my home network all the free shows Prime includes. I've caught up on American Horror Story, Parks and Recreation and even the older Buffy the Vampire Slayer along with some of the latest Mission Impossible movie, all included and now able to stream on my TV.
Another great Roku feature is Private Channels. Roku allows developers to add their own channels. Providing they adhere to Roku's terms of service they provide a code you enter online and you get a new channel, and most are free. One I absolutely love is NowhereTV. Nowhere TV combines many channels from Roku's channel store and some that are not, into one interface. A nice feature using NowhereTV are many local news stations where you can watch segments of news from your hometown you may not have seen in years. There are many other Private Channels and some searching online may grant you your wish of just about everything you want to watch.
What are others saying?
Amazon reviewers currently rate Roku products at 4.5 stars with more than 900 reviews!
Final thoughts:
If you utilize Amazon
and/or Netflix, RedBox, Hulu Plus, Crackle, and a few other services on Roku you could get a big portion of the Cable and Satellite programming you receive and save a ton of cash each month. I was surprised to find channels for Russian TV news which gave an interesting view when the meteor recently crashed along with a few other news channels such as BBC live, Sky News, and even Aljazeera in English for alternative perspectives that many cable or satellite services simply don't carry. Roku a simply one of the easiest to use alternatives to cable you can buy right now.
Where to buy:
Getting the best price tip! You can add an item to your cart on Amazon at any time and don't have to purchase right away. Each time you visit your cart Amazon will note at the top any pricing changes. Your own personalized price-tracking tool. Makes it much easier to track what you want to buy later.
Amazon sells all versions of the Roku, With Amazon's free shipping included it's typically the lowest price. To view the model we recommend just below the Roku 3 version on Amazon go here:
All new Roku 3 model with all new more capable wifi along with motion sensing remote along with its convenient headphone jack can be viewed here:
All new Roku Streaming Stick, designed to be out-of-sight, and included remote, outshines Chromecast in almost every way.
For those of you with a large iTunes library, it may make sense to go with the Apple TV.  My take on it here. This little powerhouse will stream all of your purchased iTunes collection along with Netflix,  AirPlay works flawlessly if you have an iPod or iPhone as well. You can view this item on Amazon here.
Amazon's new Fire TV box can be found here. (Be sure to check out our review as well).
Why not try it today? And as always, if you have any questions, including after your purchase  please don't hesitate to use my Contact form.
If you enjoyed this alternative style review, please take a look at my other reviews here.