Protect your Home Theater investment
Today's receivers include at least 5 and up to 9 channels of on-board amplifier power. A few high end models are available with build-in fans to extract the generated heat. Most receivers however, simply include vent grills located on the top, and sometimes although rarely, at the sides. If you've run your hands over the top of your receiver while watching Lord of the Rings, or Avatar at even just mid-volume levels, you probably thought you could cook a pizza on it!
An A/V cooler can help protect your Home Theater A/V equipment by guarding the system against overheating. Simply place the A/V cooler on top of your hottest component and let its fans suck air up and away, keeping the device cool.
A/V coolers not only cool your equipment, but add to their longevity. It's a good feeling knowing you are doing all you can to help your equipment last as long as possible.
In addition to cooling, another unexpected advantage of an A/V cooler such one sold by Antec  is it's stacking capability. Typically you would place the receiver at the top of your stack/shelving components, but with this option, organizing your equipment becomes much simpler. An A/V cooler fffectively cools the components underneath by taking in hot air with its two fans and expelling it through the back vents. And the sturdy, carbon-glass construction with aluminum top deck creates the stacking advantage we've been looking for.
Cutting-edge design meets cutting-edge technology!
Key Features:
·        Runs Quietly: The a/v cooler runs quietly–at 22.45 dBA (low) and 28.7 dBA (high)–so you can enjoy your movies, music, and games while the a/v cooler works to protect your components from overheating.
 ·        Stylish Design: Features a sleek, sturdy design, this A/V cooler plugs into a standard wall outlet and fits well with any home theater system. Measuring a slim 1.8 by 14.2 by 16.9 inches (H x W x D), it fits unobtrusively between components. You can even plug it into your receiver's on-board receptacle if one is available.
 ·        Two-speed Blowers: Each fan features two blower-speed settings: high (8.0 cfm) for those times when devices are running especially hot, and low (5.5 cfm) for regular use.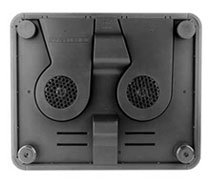 Other Options:
There are other fan/cooler options on the market for those of you with your Home Theater components out of view and/or stacking is not important or needed. They are not pretty, but if they're hidden it really doesn't matter. One is single 140mm fan by a generic manufacturer.
Conclusion:
User reviews are 4* on average with successful stories of the heat. We agree, and feel the addition of an A/V cooling fan is a necessity for Home Theater. Once you try one and place your hand over your receiver you will see (feel) for yourself the amazing results for such a little addition. Whichever option you go with, your system will benefit and may last at least until the next great feature you just have to have is released and an upgrade is imminent.
Where to buy?
You can buy Antec Low Profile Component Cooler on Amazon. And currently with their free shipping it appears to be one of the best choices online. Click here to view on Amazon.
You can buy the smaller, yet still effective if in a hidden location, fan also on Amazon. Shipping is also currently free for this item as well. Click here to view on Amazon.
If you have any questions, including after your purchase please don't hesitate to use my Contact form.
If you enjoyed this alternative style review, please take a look at my other reviews here